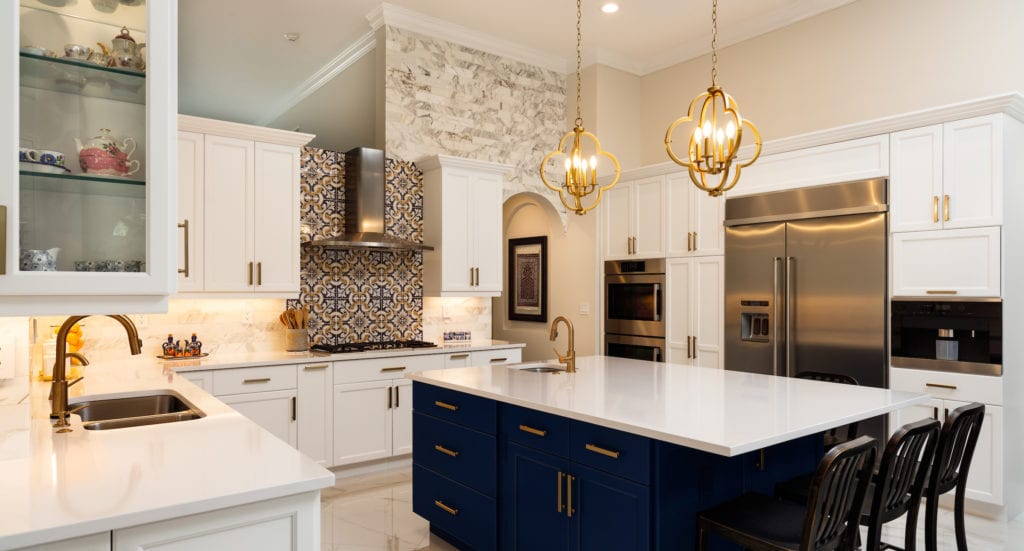 Do you love cooking? Are you a fan of making and trying new cuisines? If yes, you may not want your kitchen to look bad. And even if you are not, you also need to revamp your kitchen because it is the one room in the house that you can't avoid going to. Do not panic if you do not know where to start. We are here for your rescue. This blog will make you near and dear to all the kitchen decor essentials. 
So, without further ado, let's start! 
Must Have Kitchen Decor Essentials 
Here are a few easy ways to revamp your kitchen without doing many renovations. 
Replace Kitchen Appliances 
This may seem weird at first. And you may have questions like that how can appliances make an effect? Well, to your surprise, kitchen appliances hold great potential to change the look of your kitchen. 
Old is not always counted with age. Sometimes it simply means outdated. Then why not replace the obsolete material with the new stainless steel ones? In the process, you will save yourself from future short circuits while redesigning your kitchen. Besides, the new material also offers energy-saving features. This way, with just one investment, you will be saving a lot of bugs. 
Add The Color 
To your astonishment, colors make a big difference. Even if you have a white-themed kitchen, adding some pop of color will make a huge difference. You can add a plant at one corner of your kitchen or buy Zaghwan Dinner Set from Baglunch. This is one of the must-have kitchen decor essentials if you want to add color. Making it part of your kitchen allows you to decorate your place without adding any extra items. Also, you will be able to showcase your collection in style and save yourself some space. 
Update Your Countertops 
You may be surprised to learn that the countertops in your kitchen can make a huge difference in the appearance of your place. Yes, the countertops are mostly covered with kitchen decor essentials. However, if we keep our kitchen organized, we like to adorn it.
The first thing you need to change about your countertop is its material. Do not stick to the one that has been out of the trendy list long back. Upgrade it with a chic and smart material—for example, Marble, Granite, Wood, Soapstone, Quartz, Tile, and Brick. Make sure you choose the contemporary style in these materials too. 
Paint The Cabinets 
Yes, this is essential. The paint that looks old can hamper the look to a great extent. The minute you see the paint coming out or the fading of the color, paint it again. Now, the choice is yours. You can paint it the same color, or you can change it. The color choice will depend on other decor items or the appliances placed in your kitchen. You can either contrast with that or choose the same hue for your cabinets. 
But whatever color you pick, ensure it compliments your existing kitchen decor essentials. 
Add A Backsplash 
You may wonder how a backsplash can make a difference. However, it can! Adding a backsplash can amp up the essence of your kitchen. You will feel that you are entering a contemporary kitchen even if you simply add a white subway tile with oak cabinets. But for something dapper, you can go with ceramic tiles. This is the best solution if you have a small space or just one wall that can make an impact. And if you are looking for something that doesn't break the bank, go with wainscoting or shiplap panels. 
This will not only just make your kitchen go wow. It will also give a lot of character and charm to your kitchen. If you do not want to spend much and do not have the desire to go through much hassle, this option is perfect for you. 
Add A Pitcher From Baglunch 
Wondering, what are we directing you to? Well, Baglunch offers some stylish, modern, and aesthetic pitchers that you can use to beautify your kitchen. Pitchers are not only used to pour water or other drinks. It also holds the ability to modernize your kitcheen. However, you must choose up to a minute and a voguish pitcher to improve the look of your kitchen. 
Wrapping Up 
We have incorporated all the kitchen decor essentials that one can not miss. Here is one more thing that can make your life easy. Switch to the website of Baglunch Products. It is the platform where you can find everything to refurbish your kitchhen. Baglunch offers everything from premium designs to budget-friendly items. Therefore, you can get everything from one hand. So, why wait? Shake a leg, scroll down their website, and pick what you like.